My Web app requires an authorisation code sent to an email address when you connect via a new Web browser. On a desktop this is fine, but on iOS Safari the Session is instantly closed.
So I created a test app and just jumping to Home for a few seconds then back, or jumping to the email then straight back, has the same result. I am not closing Safari or leaving the app in the background for more than ten seconds at most. The error 'Lost connection' message might take a few seconds to appear.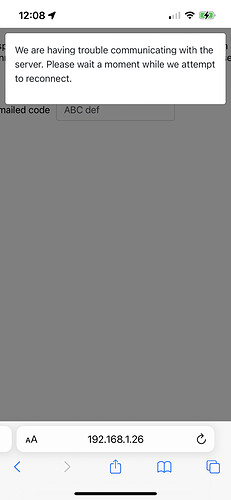 This seems to have been an issue 5-10 years ago, and suggestions were made that it could be lessened via client-side JavaScript WebTimers, but later posts imply Xojo resolved this problem.
Is this issue resolved? If not, how can a user retrieve some external data (eg emailed code) then jump back to their Web App?
Xojo Issues suggest it was fixed 6 years ago
https://tracker.xojo.com/xojoinc/xojo/-/issues/38890
2019
2017
2015
https://forum.xojo.com/t/ios-web-apps-timeout-gracefully/23445/21
2013