Ohanaware Announces the Ohanaware App Kit Release 3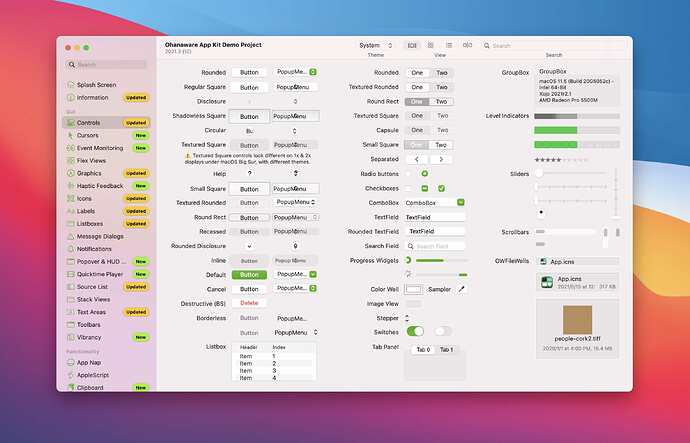 I'mma very pleased to announce the latest and greatest update to our widely popular Xojo Add-On for making better Mac Apps.
The Ohanaware App Kit 2021 Release 3 is an incredibly exciting update to our Xojo Add-on that helps hundreds of developers to create compelling and modern Mac User Interfaces with the Xojo development environment.
Product Page - App Kit 2021 - Building Better Mac Applications
Demo app - https://ohanaware.com/appkit/OAK2021_demo.zip
Demo Video - Ohanaware App Kit 2021 Release 3 demo video - YouTube
Buy Now - https://www.omegabundle.net/
Version Changes
File Wells, a place to drag files into and out of.
ListBoxForAqua, now works on 10.13 with Overlay Style scrollers and supports embedded controls.
Improved Control Animator for even easier and smoother control animations.
CALayers example.
Use unrasterized dynamic system colors with Xojo labels.
Catalina's Color Sampler, makes it easy to select a color from the screen.
macOS Cursors, allow access to system wide cursors.
File icon module, allows faster conversion of file icons to Xojo.
Image Preview example, a quick way to present an actual preview of an image file.
WYSIWYG Font selector, with font filtering via locale.
Improved Marching Antz code, makes it more flexible in use.
HUD Windows, with additional code to make it resemble the Apple HIG.
Use the newer macOS 11 NSFontTextStyles with Xojo labels.
Level Indicators.
Display progress value in a ProgressWheel.
Quicktime movie player to embed in Xojo made Mac Apps, example of Quicktime Player window is also provided.
Refactored NSSavePanels.
Use system coloring for system icons.
Solved the Search Field not displaying correctly on 10.13.
More slider options, such as locking to tick marks.
Source Lists now support embedded controls.
Refactored splitters are now smoother and don't fight for cursors.
More Text Area options, including how to use system Find Panel or Find Bar.
Vibrancy support to the sidebar, NSVisualEffectView and Popovers.
Clipboard demo, shows how to extract all data and provides improved support for folderitems.
NSEvent Monitoring allows controls to know keyboard and mouse status (without polling).
Haptic Feedback, shows how to make the trackpad vibrate for certain tasks.
Improved IOException handler, not only to provide a dialog to the customer but attempts to provide a message.
Image exporting example, shows how to set color space and meta data and other format customizations.
Last call for the Omegabundle
This is your last chance to grab the https://www.omegabundle.net/, which includes the best Xojo Add-ons available for a great price. Don't delay any longer, otherwise you'll miss out.
Ohanaware App Wrapper - Prepare your application for the Mac App Store or Web Distribution (macOS only app)
Ohanaware App Kit - A huge collection of declares and objects that Ohanaware has created over the years to help us with crafting better macOS applications. Your next macOS app starts here!
ExeWrapper - Microsoft Authenticode Signing - right from Mac! ExeWrapper enables you to code sign Windows executables on a macOS machine. (macOS only app)
DMG Canvas - Drag, drop and design your disk image's appearance and to easily and quickly create a fully assembled disk image ready to ship. (macOS only app)
GrafittiSuite Desktop Edition - 55 (up from 53 from 2020!) incredible user interface controls for Xojo that add value and improve the professional appeal of your Xojo applications.
XDL Library - Get some of the best articles from xDev Library, a brand-new ebook, Xojo Database Collection (XDL-0019), that weighs in at over 400 pages
MBS Chart Director for Xojo - Professional, interactive, real-time charts in your Xojo applications on Mac, Windows and Linux. Desktop, Console and Web projects.
MBS DynaPDF Starter Edition for Xojo - Create PDF files with your applications on Mac, Windows and Linux. Desktop, Console and Web projects.
Paradigma Software Valentina Studio Pro 11 - Ultimate reports designer, database administration and forms creation tool that runs on all three operating systems - Windows, macOS, Linux. Select one OS version.
Paradigma Software ValentinaDB ADK 10 for Xojo - Embed the ultra-fast, object-relational Valentina database into your applications and deploy royalty free - Windows, macOS, Linux, including Raspberry PI! Also works with local SQLite files and as a client to Valentina Server.
Paradigma Software Valentina Reports ADK 10for Xojo - Generate visually rich reports as graphics, web pages or PDF from your Xojo applications on Windows, macOS, Linux including Raspberry PI! Also works with local SQLite files and as a client to Valentina Server.
Paradigma Software Valentina Server Unlimited - 4-in-1 Reports Server, Forms Server along with two database servers: one built on object-relational Valentina Database and the other on SQLite. Report and forms serving works with MySQL, PostgreSQL, MS SQL Server and the included Valentina and SQLite servers
xDev Magazine - Get back issues and a year's subscription to xDev Magazine, the professional's magazine for developing with Xojo.
XDC Developer Conference Coupon - Save $100 off of the XDC Developer Conference 2022 in London! Coupon must be used before the end of 2021.
Buy Now - https://www.omegabundle.net/