1. What is PushBullet?
Pushbullet bridges the gap between your phone (Android/Iphone), tablet (Android/iPad), and computer (Windows/OSX/Chrome/Firefox/Safari/Opera), enabling them to work better together. From seeing your phone's notifications on your computer, to easily transferring links, files, and more between devices, Pushbullet saves you time by making what used to be difficult or impossible, easy.
https://www.youtube.com/watch?v=4SdAzP-5sUw
2. Xojo Wrapper (Beta)
With this PushBullet API wrapper for Xojo, you can manage your devices, contacts, subscriptions and push notifications to any other device or contact. For the moment as it is Beta it is closed source, but I will probably release its final version as DonationWare or maybe even Open Source. It has only been tested on Windows, so some feedback would be nice.
Push types supported:
Note
Link
Address
List
File transfer (up to 25MB), async upload
ABPushBullet is a control. You can drag it to your form and start using it.
Two properties in the inspector NEED to be altered:
Set 'Secure' ON (For some reason ,while set in the constructor, it does not work if you do not set it in the inspector)
Fill in your AccessToken. When you have created an account (http://www.pushbullet.com) and installed the apps on you Android/iPhone/WebBrowser/Computer you can go to your account settings (click on your avatar on the top right, pick 'account settings')
On this screen you see 'Access Token'. E.g. 4HamM*******************
Enter this token in the inspector.
That's it!
The demo project shows some rudimental functionality of ABPushBullet. (most of the buttons do not show anything. You'll have to go into the code to see the objects it gives back in the debug window).
The pushes itself are more complete. Every type has an example use. Press the 'Devices' button first to load you devices into the combos. Pick one, fill in the fields and press 'send'.
ABPushBullet is created with simplicity in mind. You can do everything with just a few easy to use methods: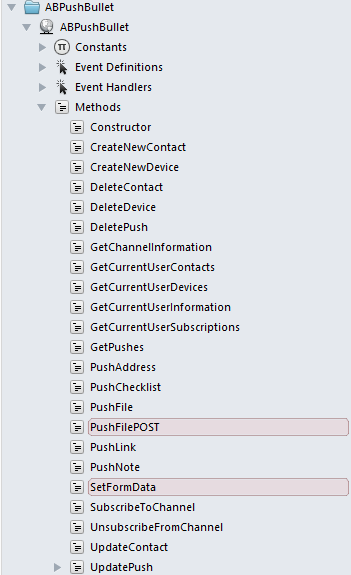 You can download the control and demo project from: http://www.gorgeousapps.com/ABPushBullet.zip