Hi guys,
I'm a newbee in xojo and to programming in general so please excuse my lack of proper terminology.
I'm passing a nativepath of folderitem to execute Shell file command (windows), the string contains what I believe UTF-8 encoding with extended characters set (Hebrew, English and German letters). the App displays the string correctly in house but executing the shell command I get "No such file or directory" and I see that the string text inside the shell is gibberish.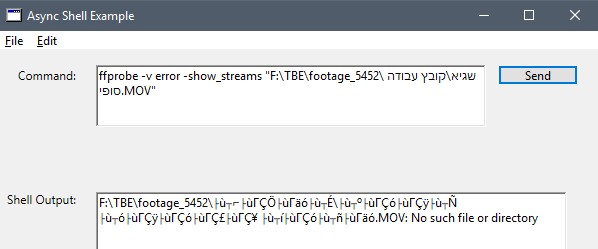 The code I created is simple:
Open Xojo's Example projects- Advenced- Shell- Async Shell Example
Add in the Window's Open Event Handler the following code:
Me.AcceptFileDrop(VideoFile.mov)
(I have more file types but one is enough to make a point)
make File Type Set accordingly,
In the window's DropObject Event Handler:
[code]Do
If obj.FolderItemAvailable Then
If obj.FolderItem.Type <> "" Then
Dim Filter As Integer
Filter = InStr(".mov;.mxf;.mpg;.mpeg;.mpg;.mpeg;.mp4.mp2;.avi;.mkv;.webm;.wmv;.mpeg4", obj.FolderItem.Type)
Select Case Filter
Case 1 To 68 /// it is a video ext. that I want to use
CommandArea.Text = "ffprobe -v error -show_streams " + chr(34) + obj.FolderItem.NativePath + chr(34)
AsyncShell.Execute(CommandArea.Text)
    If AsyncShell.ErrorCode <> 0 Then
      OutputArea.Text = "Error: " + Str(AsyncShell.ErrorCode)
      ShellProgress.Visible = False
    End If
  End Select
End If

End If
Loop Until Not obj.NextItem[/code]
I tried the same code on Mac OS and it works perfectly, very odd.
Any ideas ?