I am trying to get an app signed to distribute from my own website.
App Wrapper says I need:
Developer ID Application
Developer ID Installer
Apple Development or Mac Developer
I try and get these things but
When I try and proceed with App Wrapper I see this.
At this point I am confused because this does not appear on the list of three things that I was told that I needed.
I go to my account with Apple accessed through my Apple ID. It lists the three things that seem to be what I was told that I needed.
Under My Certificates I have nothing. I mention this because I am confused by the difference between My Certificates and Certificates.
I look at Certificates and I see: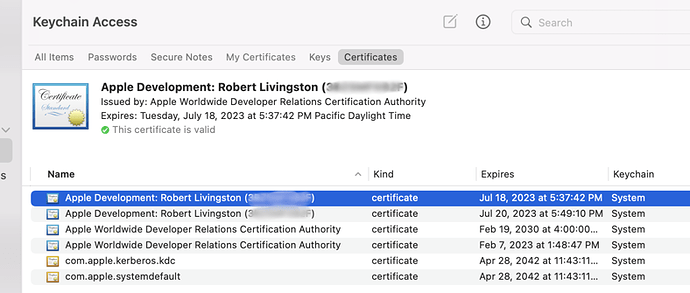 Now it seems that my flailing around has created duplicates. Clicking on them individually – they all say valid.
One of the many things that I do not understand is the relationship between these certificates and the three things listed above that I am told I need. (1. Developer ID Application 2. Developer ID Installer 3. Apple Development or Mac Developer
Another is that I am told that I am missing
Developer ID Certification Authority
But I do not know how or where to find this. I have never seen these words as an option to select in all my blundering around App Wrapper and the Apple sites and Keychain Access
Reading forum posts I understand that this process is not supposed to be fun. But I have spent days trying to get this to work and keep failing. With the information that I have provided does someone have suggestions of what I should try?