Ohanaware Co., Ltd. are very proud to announce the immediate release of Sleep Aid 1.0. A brand new Mac application aimed to help diagnose and resolve sleeping problems that can plague modern Mac computers.
Ohanaware's Sleep Aid, works by analyzing sleep event data, system sleep settings and running applications. Looking for what Sleep Aid believes are potential sleeping problems.
Sleep data is presented in a familiar calendar style interface, which allows customers to quickly and easily identify.
When the Mac was pretending to be asleep.
When the Mac suffered Unusual Insomnia, Excessive Insomnia and Long Insomnia.
When the Mac awakes directly after being sent to sleep.
When the Mac was woken by Notifications, Bluetooth, Siri and others.
When Sleep Settings, Sleep Aid or the macOS was changed.
Selecting a sleep event in the calendar reveals details about the event and potential suggestions in the sidebar.
In Addition, Sleep Aid also contains the following functions.
Overview Panel.
Sleep Aid will list all potential problems, insomnia reasons, screen wake reasons and a daily insomnia chart.
Insomnia Activity.
Select an insomnia event in the calendar, and Sleep Aid will reveal which apps or services kept the Mac awake and for how long.
Event Comparison.
Double clicking an event in the calendar, opens it in a separate window, allow for two or more events to be compared.
Take Note.
Customers can add their own notes to the calendar, helping to diagnose the cause of difficult sleep problems.
Sleep Check.
Enables customers to quickly identify system settings or applications that are preventing the Mac from falling asleep. Settings can be fixed directly from the "Sleep Check" window.
Better Sleep Controller.
A custom built controller inside of Sleep Aid, allowing system services to be disabled when the screen goes off, and re-enabled when it comes back on.
Disable Bluetooth during Sleep.
Sleep Aid can switch off Bluetooth when the Mac goes to sleep, preventing Bluetooth devices from waking the Mac, devices such as headphones, mice, tracking gadgets and others.
Sleep Aid then re-enables Bluetooth on wake.
Sleep Settings.
A single window that allows control of System Sleep Settings and "Better Sleep Controller" settings, which can help reduce insomnia or solve sleep troubles.
Efficient Updates.
When updating, Sleep Aid will only download the application for the current Mac, instead of downloading a whole universal binary again. This saves time, electricity and storage space.
14-Day FREE trial.
Sleep Aid includes a fully unlocked no-obligation trial for 14-Days. At the end of the trial, customers will be asked to purchase a license if they wish to continue using Sleep Aid.
Compatibility
macOS 10.13.6 High Sierra, 10.14 Mojave, 10.15 Catalina, 11 Big Sur and 12 Monterey.
8GB of RAM.
50MB of disk space.
Sleep Aid is available natively for Apple Silicon based Mac computers and Intel based Mac computers.
Pricing and Availability
Sleep Aid is available directly from the Ohanaware website. Sleep Aid offers a no-obligation 14-Day FREE trial.
Ohanaware are running a time limited launch promotion.
There are 3 purchase options available for Sleep Aid.
1 Mac with 1-Year of updates and support. RRP $25; promotion $15.
3 Macs with 1-Year of updates and support. RRP $50; promotion $30.
3 Macs with 3-Years of updates and support. RRP $100; promotion $60.
Prices are in USD and excluding any taxes. When licenses expire, customers can choose to renew and continue to receive the latest updates and support from Ohanaware.
Ohanaware currently uses FastSpring to handle payments.
Links
Sleep Aid Product Webpage
Press Kit, including all screen shots.
Screenshots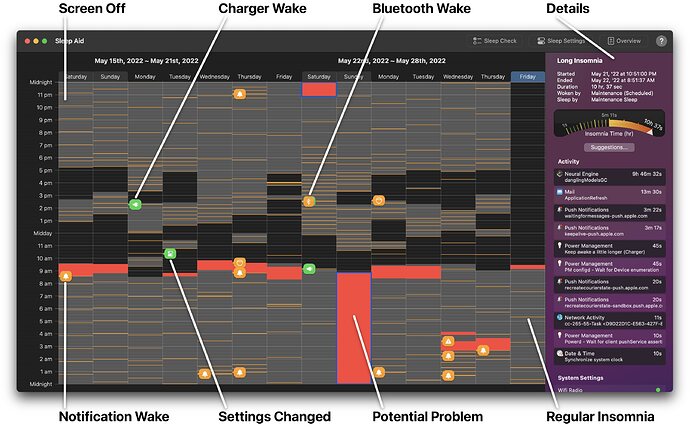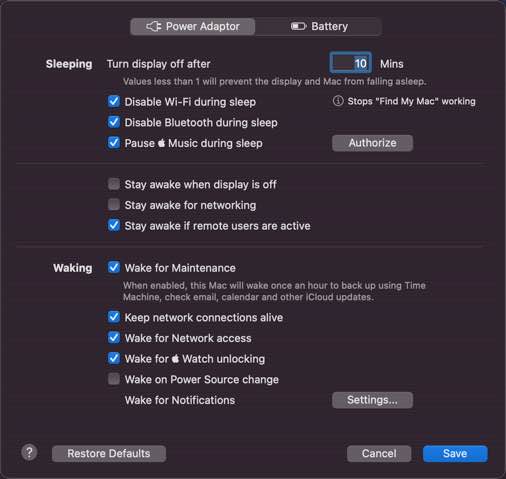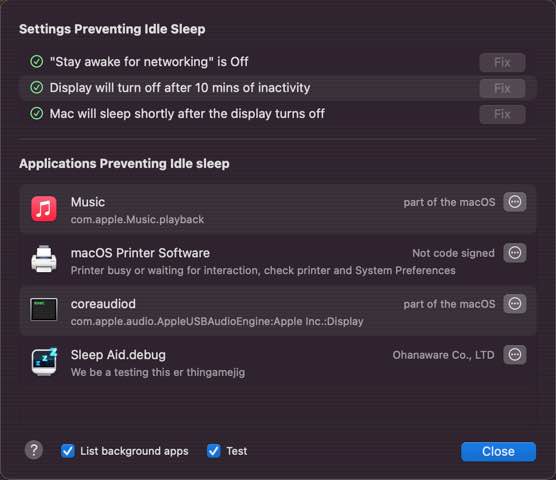 High Resolution Icon (1024px)