I formerly used TuCows for Windows Code signing certificates, but they closed up and recommended Sectigo: TuCows code signing certificates? - #11 by Mike_D
Others have had trouble with Sectigo: Alternative to Sectigo (formerly Comodo) for Certification
I'm having trouble with Sectigo too.
First, it took them forever to validate my company. But that's done now, so I can live with it.
The problem now is I can't download the certificate. I've tried on multiple browsers and OSs and all I get are two files:
cert_xxxxx.crt which looks like a generic certificate:
A second file, cert_xxxxx_ca_bundle.crt which is zero bytes in size:

I tried downloading from IE11 and it apparentely sends a mime-type that IE11 doesn't understand: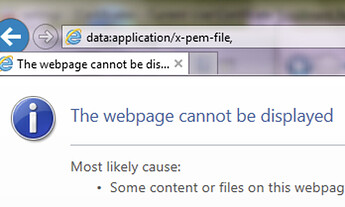 I'm pretty knowledable about this whole process - I know I need to combine the Private Key which was used for the CSR with the code-signature certificate (and I know how to do that on Windows and Mac) but I think the damned certificate itself is just not downloading. Help?