Rotating an image (watch the white rect with a small blue rect below), my image goes out of view (mostly), far more than what GIMP do (image below). The yellow part is… outside of the real image (was grey, but was a bit misleading).
The example in the documentation is useless.
I checked the release notes, found the Feature request (this one have nice artwork Xojo: Account Login).
I've created a method that receive the Angle value for the rotation in °.
But I do not know how to get the result width and height to create a larger Picture to draw the rotated image into (so I will not loose parts of the rotated image).
I also want to be able to set the rotated image "centered", but how do I do that (too) ?
In GIMP, I get that (for example) when asking for a 45° rotation: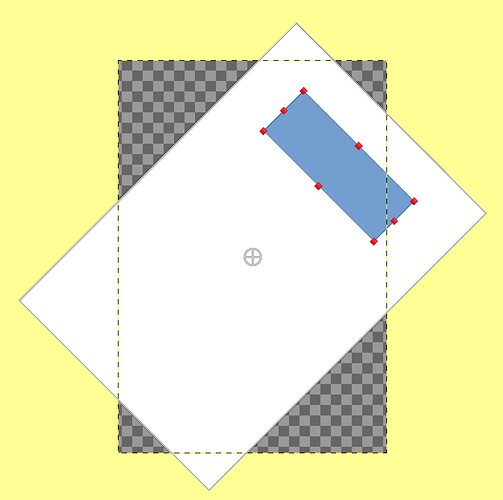 For a 90° rotation, the "out of the square part" is missing (I get only a square from my rectangle).
I wanted to rotate the blue rectangle using LibreOffice, but… I do not found how to rotate it

Ideas ?
NB: with Preview (macOS), the rotation is correct (for 90°, L and R rotations).
Oh ! Yes, I searched the net, but I only get bits rotations and crypted code.