I'm working on a game as a side project. For reasons that are not important I have these three pictures combined as an image set in the IDE: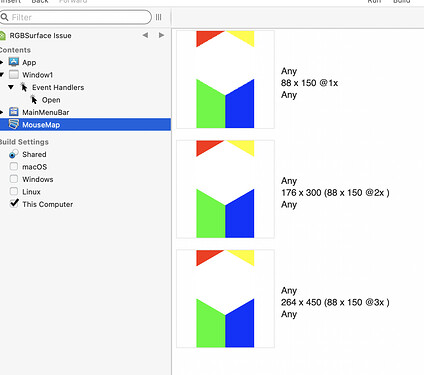 I need to loop through every pixel in the image and determine if it is white (&cffffff), red (&cff0000), yellow (&cffff00), blue (&c0000ff) or green (&c00ff00).
Here is some code in the Open event of the main window:
// Get a correctly scaled temporary picture to draw to.
Var p As Picture = BitmapForCaching(MouseMap.Width, MouseMap.Height)

// Draw the mouse map. Xojo should pick the right one from the image set.
p.Graphics.DrawPicture(MouseMap, 0, 0)

// Loop through every pixel and make sure that it is either
// white, red, yellow, blue or green (they are the *only* colours).
For x As Integer = 0 To p.Graphics.Width - 1
  For y As Integer = 0 To p.Graphics.Height - 1
    Var pixel As Color = p.RGBSurface.Pixel(x, y)
    Select Case pixel
    Case &cffffff
      // White.
    Case &cff0000
      // Red.
    Case &cffff00
      // Yellow.
    Case &c0000ff
      // Blue.
    Case &c00ff00
      // Green.
    Else
      Raise New InvalidArgumentException("Unexpected colour")
    End Select
  Next y
Next x

When I run the project, it always breaks immediately (when x and y = 0 in the loop) saying the colour is invalid. In the debugger, I can see that the colour reported by the RGBSurface is &cEA402500 which is a shade of red:

Now I know for a fact that there are only 5 colours in each of the three images because they are hand drawn in a pixel editor with no anti-aliasing or alpha layer (Pixen for macOS).
Below is an example project including the assets showing the issue:
Example project (Xojo 2020 R2.1).
What is going on here and can anyone help please?