I recently wrote a blog post about threading: Improved threading for Xojo
And since a small part of Xojo can be used safely in a preemptive-thread, I went further and made a new function: CallDelegateOnPreemptiveThreadMBS
The way we handle it seems to be safe so far and we have no crashes. To show how this could be used, I made a little example, which does some math over memory blocks: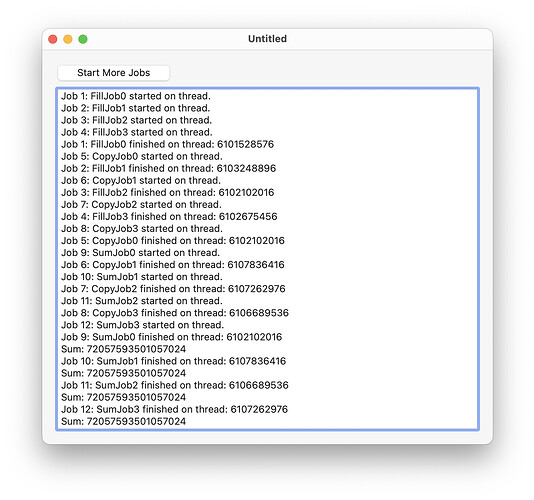 Please note that some rules apply so far:
Experimental function to play with preemptive-threads in Xojo apps.

Some rules:

No objects, no strings, no arrays
Use Ptr, not Memoryblocks
Crashes in debugger, so only use in built app
Use

#Pragma

BackgroundTasks False
Use

#Pragma

BreakOnExceptions False
Use

#Pragma

StackOverflowChecking False
Use

#Pragma

NilObjectChecking False
No exceptions
Delegate must be stored in global variable to avoid it getting freed early.
You can pass up to one ptr as data parameter.
Declares may work, but should be pre-used to make sure they don't raise an exception and are loaded.

uses thread pool on iOS, macOS and Windows. Otherwise regular threads.
I tried it on macOS and Windows and it seems to work fine so far using 4 CPU cores.
If you like to try, please download 23.1pr5 plugins (or later). Links on the blog.