I am trying to use the NSCollectionViewMBS to display a series of containerControls including canvases and other controls. I have added a simple routine (below) to the Examples (NS CollectionView Test) to allow changes to the size of each collectionControl. However it does not seem to re-draw the containerControls consistently.
I believe the differences are categorised thus:
items that are visible are re-drawn correctly.
items that within the controls buffer, but not visible, are not redrawn. Scrolling the control to see these items does not refresh them.
items that are outside the buffer and need to be reloaded, are drawn correctly.
An example image here, the checkboxes and item numbers should be shown on all items.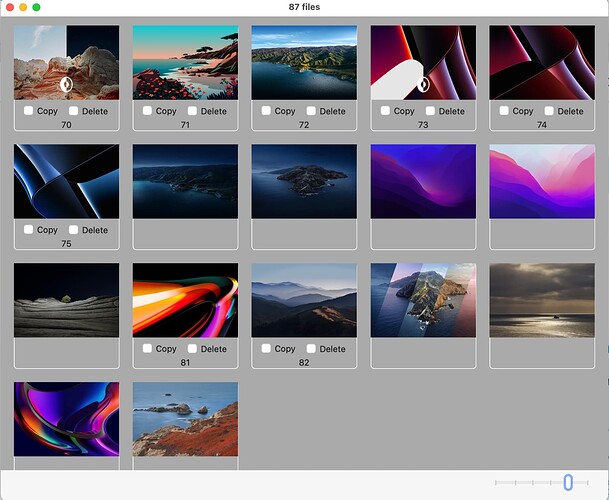 This is the routine I added to handle the changes of size. I've tried various combinations of Refresh or Invalidates but none seem to get there.

Private Sub on_sizeChanged()
  Dim v As NSCollectionViewFlowLayoutMBS = NSCollectionViewFlowLayoutMBS(collectionView.collectionViewLayout)
  v.itemSize = New NSSizeMBS(size, size)
  
  //in-view items need to be resized
  For Each item As CollectionViewItem In items
    If item.ImageContainer <> Nil Then
      item.ImageContainer.width = size
      item.ImageContainer.height = size
      
      Dim n As NSViewMBS = item.ImageContainer.NSViewMBS
      n.frame = New NSRectMBS(0, 0, size, size)
    End If
  Next item
  
  //force a reload
  collectionView.reloadData
End Sub