Hey all,
I found this bit of code on the forums a few weeks ago from @MarkusR i believe? (Cant find the post)
It loops through a listbox and highlights the row that matches the text in the textfield.
Textfield (TextChanged) event:
Pressed()

if TextField1.text = "" then
  Listbox1.SelectedRowIndex = ListBox1.NoSelection
end if

Two methods created:
Method 1 - Name = (Pressed)
Code:
Search TextField1.text
Method 2 - Name = (Search)
Code:
System.DebugLog CurrentMethodName

Var lb As Listbox = Listbox1

For row As Integer = 0 To lb.LastRowIndex
  Var found As Boolean = False
  For col As Integer = 0 To lb.ColumnCount-1
    Var s As String = lb.CellValueAt(row,col)
    If s.IndexOf(0, tx, ComparisonOptions.CaseInsensitive) >= 0 Then
      found = True
    End If
  Next
  lb.Selected(row) = found
Next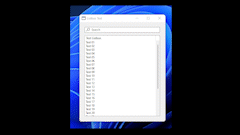 Video (Incase above gif too small)
As you can see from the gif above (Hopefully) when searching for a row that is out of view, I have to scroll manually to that position.
My question, is there anything I could add to the above code to do make it bring the selected row into view automatically?
Thank you in advanced!
Robin