Hello and happy Monday!
For my friends finding out about Lifeboat for the first time, I have been working to simplify the deploy process for Xojo Web apps. My goal is to help everyone who wants to make a web app get up and running
In my time between projects these past couple of weeks I have been tweaking the way we use Lifeboat. I've separated out domain and subdomain management from web app management. This change prepares for a future update implementing static file serving.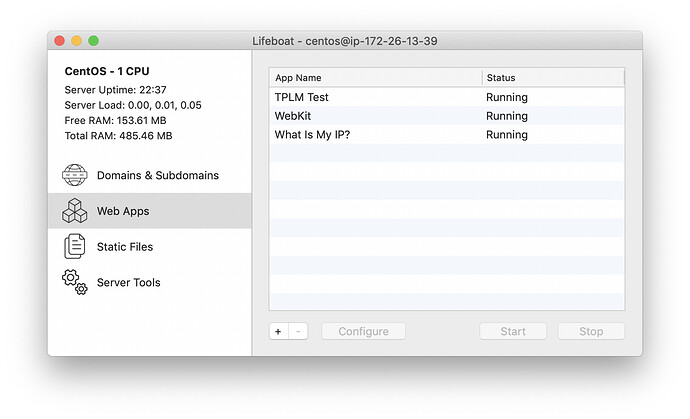 I plan to update the tutorial videos (and add more!) as I get closer to a release. I wanted to get this update available before we got too comfortable in the previous backend schema. This version was designed with the future in mind and should be the only time an update won't happen automatically.
Here's what's new in Build 27
New: Connection validation now prevents duplicates
New: Disconnect timeout to close ssh-helper process
New: Lifeboat can identify pre-configured servers
New: Help Menu > Flush DNS Cache tool
Fixed: Server window no longer grows infinitely as it switches views on Windows
Fixed: Rare NilObjectException caused by closing windows
Fixed: Status label now allows for longer filenames
Fixed: Exceptions in the helper app no longer immediately close the server window
Changed: More logging, everywhere!
Changed: Can no longer delete a connection while it's open
Changed: Improved Windows menu system
Changed: nginx logs are now organized by domain
More information:

Downloads:
https://strawberrysw.com/lifeboat/get/mac
https://strawberrysw.com/lifeboat/get/windows
Best wishes,
Tim Parnell