I'm using MBS plugins and try to implement keychain access according to the MBS example "Keychain test iOS"
But when I try to access the keychain on my iPhone, from my own app, then I see this error: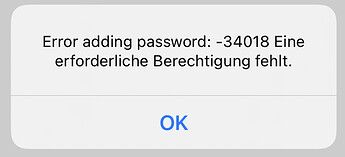 I think I would have to set a key for an AccessGroup in my Apple developer account? Is this right?
Which are the steps to do so?
I tried to go to Certificates, Identifiers & Profiles → Keys and then chose "Create a key".
And I guess that I would have to chose the option "Sign in with Apple"? But in my case this option is disabled (see screenshot)
Can I even use the keychain, for an app which is not distributed on the AppStore?
The MBS example code: