Hi Everyone,
I am attempting to build a custom pushbutton with a canvas. I am unable to figure out how to make a new Inspector Behavior Caption as String to show the string OK when dropped in the IDE, as I can only get a blank canvas in the IDE. Any helpful hints?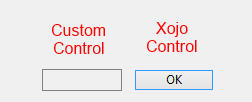 The above shows the Custom Control without text and the Xojo control is showing the text OK.
Thanks for your help.