Hello Everyone,
The flicker issue and jerky graphics on the Windows operating system has been an issue for a while. I have been able to track down one possible issue that might be happening, but I don't know how (or if) this can be changed in a graphic Xojo program on Windows. Below is a picture that will help me explain what I believe I am seeing on Windows and OS X when drawing graphics. I am just using microseconds as a unit of time, and this will help me explain my thoughts: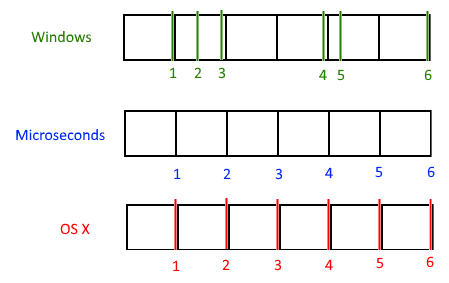 Lets say that a picture is to be drawn in a Xojo Control, it can be a canvas, the Window, or OpenGL, as it seems to happen on all on the Windows OS. If the graphic is to be refreshed once every microsecond, then the OSX implementation of graphics works well with smooth graphics, as the counter would fire once every microsecond and the time between each firing would also be one microsecond. In Windows with Xojo, I believe that I am observing that the number of times the graphic is being updated is the same, where the graphic is updated 6 times in 6 microseconds, but the time between the firing of each of these updates is different in Xojo.
Windows is able to have exceptionally high updates (frames per second counter), and I am noticing that the time between each graphic update causes the flickering or studdering of graphics being refreshed (frequency). I have been working with many declares to try and minimize the time difference between each refresh, but have not been successful.
I am not sure if there is an answer to this question, and is there a way to have both a consistent counter and frequency in Xojo with Windows with high performance graphic applications? This may be one of those questions where someone has a solution that happens in the middle-of-the-night