I'm writing data to Filemaker:
Create xml file.
Execute AppleScript which tells Filemaker to import the xml file.
The AppleScript updates a small text file which tells my app that the import has finished.
Delete the xml file.
Start the next record.
Sometimes Filemaker starts importing when the file is not there.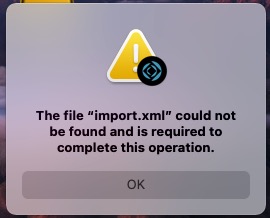 I have seen the error a couple of times myself. But I can't reproduce it at all. Dropbox or iCloud are not involved. It occurs for different versions of macOS and Filemaker.
What could cause this? How do I make sure that the file is - like - really there?