As always drawing in HiDPI mode defeats me. I need to draw a small icon in an existing icon. But the graphics is nil.
dim thePictureLight as Picture = new picture(16, 16, 32)
thePictureLight = ListboxIcons.getPictureLight(LevelList.subhead(currentNode).text, false)

dim OffSet as Integer = thePictureLight.Width/2
dim thePath as String = LevelList.subhead(currentNode).thePath
if ImapStatus.IndexOf(thePath) > -1 then
  for currentPic as Integer = 0 to thePictureLight.ImageCount - 1
    thePictureLight.ImageAt(currentPic).Graphics.DrawPicture(exclamation, OffSet, OffSet, exclamation.Width/2, exclamation.Height/2, 0, 0, exclamation.Width, exclamation.Height)
  next 'Graphics is nil here
end if

thePictureLight is created with 2 images: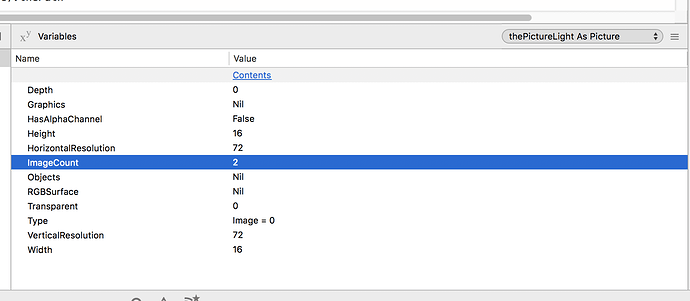 What do I need to change to get the exclamation icon into the larger icon? I think that thePictureLight isn't mutable. But how do I get from there to a mutable picture with HiDPI?