I'm using Xojo 2017 Release 3 to create an iOS project, and I'm having a problem displaying the app in both the simulator and on the actual device on an iPad Pro 12.9
I'm running XCode 9.2 with iOS 11.2.1, with Simulator 10.
When I run the app on all the simulators and all the devices, it formats on the screen exactly the way it is laid out in the IDE except for the iPad Pro 12.9 inch formats. In the larger iPad 12.9 formats, the image controls are not laid out in a proportional manner as in the other iPad formats. The controls do not grow with the larger screen.
Unless you lock a control to the right side of the view, it will move to where it would be placed on the screen as in an iPad 10.5 screen and the right side controls end up more in the middle of the screen. The controls should proportionally grow.
I'm not sure if this is a known problem, but it does not look correct. The layout should be proportional as to the size of the screen.
I was wondering if anyone else has had this problem, and if so when did it start so I can revert back to an older version of Xojo. Any help would be greatly appreciated. I've been messing with this for two days using the ever-so-fun Autolayout.
Example image can be seen at: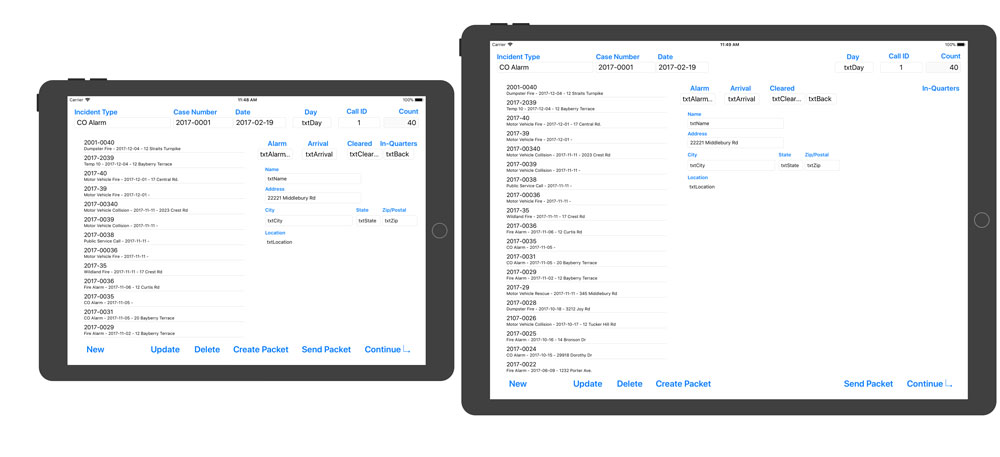 If you notice that the fonts sizes for the two iPads are the same. The large iPad should have larger font sizes.