Hello Everyone,
How can I disable mouse movements and pausing in the window when the mouse clicks on the window when drawing in a Canvas? This does not happen on Mac and happens on Windows with a Canvas and OpenGL. Below is a screen grab of an example animation where a circle is drawn on a canvas.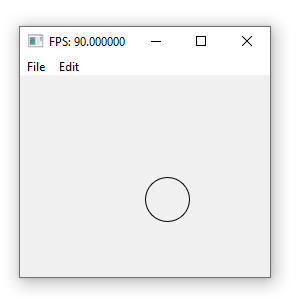 I have been able to increase the drawing rate to 90 frames-per-second and higher, as long as the mouse does not enter the canvas. I have used a tight loop that is commonly performed in programs that I write in C++ and would like to know how to stop mouse movements from interfering with drawing. My wild guess (thats all it is) is that #Pragma DisableAutoWaitCursor would fix the problem, and this has been deprecated Pragma Directives.
When I program the same simple program in C++, by placing the reading of mouse movement in the incorrect place, I can get the same stuttering of graphics that is shown in the below Xojo program.
I am trying to make something more cross-platform, and am trying to develop a work-around on Windows Xojo first. This has been a long-standing problem when drawing on Xojo, and am curious if anyone has been able to figure out a solution
When the example program runs on its own, the frames per second is 90 fps. When a mouse is moved in the window, every mouse movement delays drawing.
Using a timer is not an option, as the time has a maximum resolution at about 15 ms.