2019 r1 - Windows 10, 16GB's RAM
I've been experimenting with the trial version. So far the web stuff runs, no problem.
Now I'm trying to follow the very simple stuff in the "Introduction to Programming with Xojo". The desktop app is not running. Some of the sample desktops worked fine the other day. Today when I was doing the web stuff I had opened a 2nd instance of XoJo and tried to run that one. It wouldn't work (discovered this a few days ago). So i shut down the 2nd instance. Web stuff still worked on instance 1. Shut Xojo down completely and she still won't go for desktop. I don't want to get in to the practice of having to reboot my machine every time Xojo hiccups.
What gives?
See image…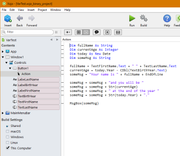 Edit:
I can still run other sample desktop projects no problemo. Just not the very simple demo I built following the tutorial.