When Dragging a component into the IDE from the desktop. The IDE become highly unstable. Usually I have to save, quit and reopen the project to avoid a crash shortly after the import.
But, because my load time on a project are now over 10 minutes. I thought I would simply save and get on with my work.
This time I fond a clue that something is wrong. If I open up another workspace, the imported item is "moved". As you can see it is on the top in one workspace and the bottom on another.
When I save the project It simply stalls on "Preparing…". I waited 30 minutes and had to force quit.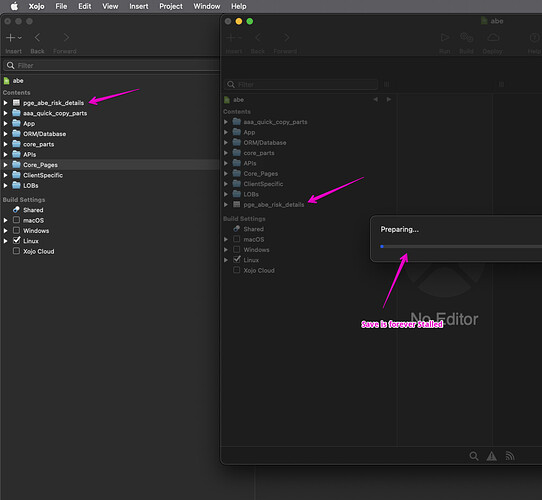 This is the second time I have seen this failure in the last month. This is the first time i have recognized the warning sign.
Does anyone have any idea how I can isolate this for feedback,…er…tracker? Else Xojo will not give it a second look.
EDIT: then I get the dreaded …/…/…/…/…/…/ and the ide stall on loading the dropped in project item when it is hunted down.