We are having an issue on BS which causes an NSInternalInconsistencyException: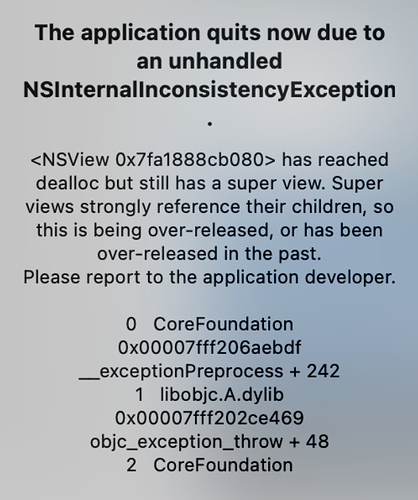 Our code works on Catalina and has word on versions before this. What we have tried:
Change the code to API 2.0 code that Xojo has provided.
Changed the parameter from a Window to Nil (as it's optional)
Change the parameters to another (non dialog) window
We are using both:
PrinterSetup.ShowPageSetupDialog (Optional window as Window) As Boolean
ShowPrinterDialog (window as Window) As Graphics
None of the above tests changed the behavior. It seems there is something internally wrong that causes a dealloc while the super view is still active ?
Can anyone verify having the same issue? Or are we doing something terribly wrong here? It could be that Apple changed the API's again ?