Ohanaware Co., Ltd. are very proud to announce the immediate release of App Wrapper 4.4. An update to their popular premium post-build processor for the macOS. This release resolves some issues, provides more options and improves App Wrapper accessibility.
Since 2011 Ohanaware have been developing their premium post-build processor, aiding developers to process their applications for Apple's App Store and Apple's Notarization process. Version 4 is the fourth re-write of the product, taking everything that Ohanaware have learned in the last 10 years and re-employing that knowledge to create a modern, more assistive, more discoverable, more capable and importantly, more expandable product for todays post-build requirements.
Version 4.4 includes 21 new features, 14 improvements and 6 bug fixes.
New
Now supports Provisioning Profiles
New Help Viewer, so that all customers on Monterey can access the application help.
New update system, that is lighter and will allow for architecture specific versions.
Finally imported the purchase window designed back in Summer of 2021.
Includes a new Honeycomb background texture.
Changing Panes in the App Wrapper document now has animation.
Credits Editor, now includes the option to reset the typeface and color to Apple system settings.
App Sandbox is now enabled for the Development channel by default (only affects new documents).
Can now search the credits editor
Auto adds networking entitlement for App Sandbox and detection of the Xojo HTMLViewer
App Wrapper now indexes it's own help
Checking now does tests on the packing settings.
Checking now checks DMG Canvas version for compatibility.
Checking now check settings for Submission to Apple (including Notarization).
Added QuickLook support to the "Add Files" section of the Bundle Contents.
Keychain Access Groups
Can now export and import property lists from the property list editor.
Now supports setting Search Keywords to help customers find your apps.
Now adds support for Notch settings
Smart Card Reader to the Hardware Access entitlements
App Wrapper is now able to walk back on a Certificate trust chain and establish if a cert or cert on the chain is self-signed when it shouldn't be.
Fixes
Fixed an issue where the Save dialog would display instead of the file type.
Preferences icon is now correctly highlighted when opening the preferences window.
Checking now validates bundle contents for "Development" release.
OWListBox now shows row highlight color while editing the contents of a row.
Added Fix for "Progress" not showing consistently.
Fixed a bug with the property list editor and editing array values.
Improvements
Now includes an option to use Development channel for debugging App Store apps.
Improved the message when trying to open an application with a document, while it's already linked to another.
Now handles broken aliases for documents, instead of saying the format isn't recognized.
The page selector in the sidebar is always visible and doesn't require scrolling.
Splash Screen buttons now offer two rows for the label.
Info pane in an App Wrapper now displays the file name instead of the application name.
Updated the usage of Remove v.s. Delete to better their actions.
Many minor consistency changes throughout the UI, to better match icons and labels.
Improved the "Add Files" section of bundle contents
Improved the speed of displaying the Bundle Contents as each section is only loaded on display.
Renamed some of the options on Bundle Mods to make it clearer as to what they do.
Checking now checks for duplicate bundle identifiers
Improved channel selector to help identity which channel is currently selected.
Improved filtering of Code Signing Certificates.
App Wrapper 4.4 was built with Xojo, using the Ohanaware App Kit 2021, and wrapped with App Wrapper 4.4.
Compatibility
macOS 10.13.6 High Sierra, macOS 10.14 Mojave, macOS 10.15 Catalina, macOS 11 Big Sur and macOS 12 Monterey
8GB of RAM.
50MB of disk space.
Xcode 10 or newer.
Pricing and Availability
App Wrapper 4.4 is a FREE update to all participants of the Omegabundle 2021, and to customers with a valid Update Plan.
App Wrapper 4.4 is also available from the Ohanaware Website. App Wrapper 4 offers a no-obligation 14 Day trial. The RRP of App Wrapper 4 is $49.99 (USD) for a single user 1-Year Update Plan. Customers with a valid Update Plan can upgrade to App Wrapper 4.4 at no additional cost. Customers with expired Update Plans can extend their plans for $39.99 (USD). Ohanaware currently uses FastSpring to handle payments on the Ohanaware website.
App Wrapper 4 Product Webpage
Download URL
https://www.ohanaware.com/appwrapper/release/appWrapper.dmg
Purchase URL
https://ohanaware.onfastspring.com/app-wrapper
Screenshots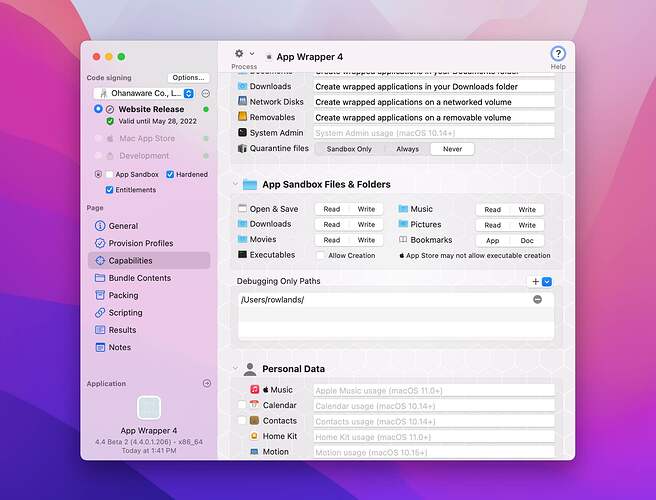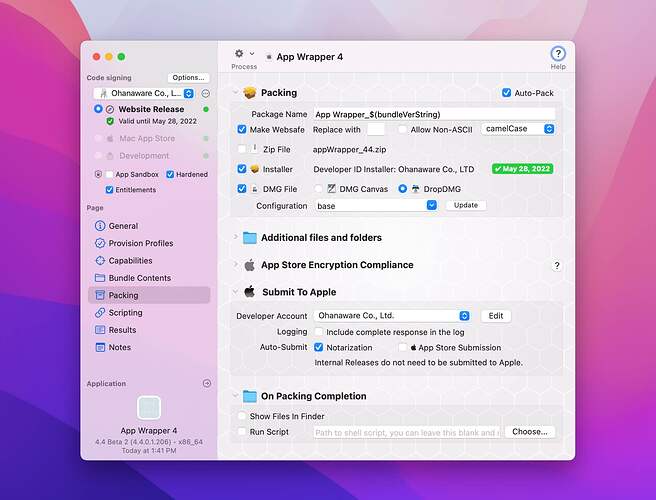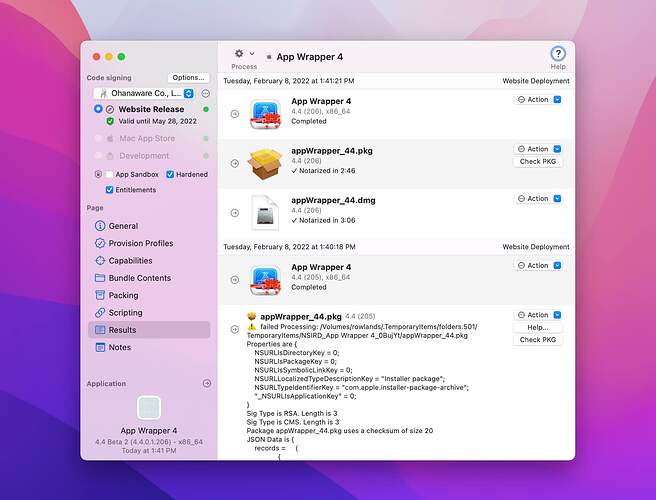 High Resolution Icon (1024px)