I'm really pleased to announce a new free and open source control for Xojo called SyntaxArea.
SyntaxArea is a fast, customisable, Canvas-based source code editor written in 100% API 2.0 Xojo code with no proprietary plugin requirements.
For those that know me, you may realise that this is the second open source code editor I've released (the other being XUICodeEditor). What differentiates SyntaxArea from XUICodeEditor is that it's faster, much simpler to define new language definitions and is more robust.
The code is heavily based on / ported from Alex Restrepo's CustomEditField (CEF) control that is currently under the stewardship of Thomas Tempelmann. CEF is API 1.0 only and has a number of outstanding bugs. This is a complete rewrite with standardisation / documentation of the source code and complete migration to API 2.0.
Here are a few of the features of SyntaxArea (improvements over CEF are in bold):
Cross platform (macOS and Windows tested)
API 2.0
Based on TextInputCanvas so it has full support for internationalisation and proper keyboard commands including emoji insertion
Native scrollbars on macOS
Syntax highlighting with easy to define regex-based syntax definitions
Support for autocompletion
Undo/redo engine
Powerful theming engine for robust light/dark mode support
Fast (handles 100s or 1000s lines of Xojo code for example)
Optional block / line folding
Vertical ruler support (with a definable column width)
Symbol support to allow easy navigation within a source code document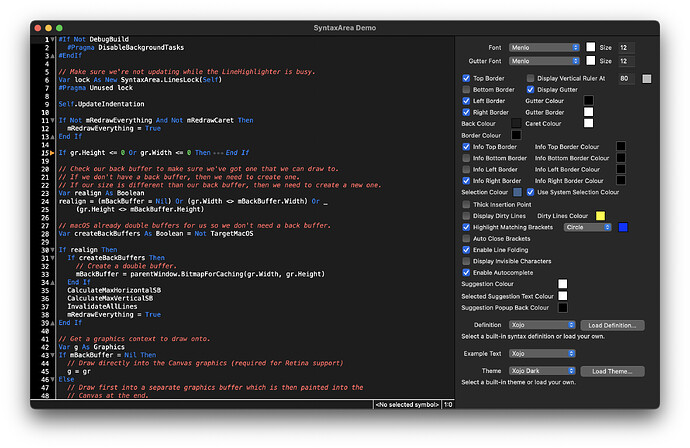 The control is MIT licensed so you're free to use it how you see fit.
You can see how to use it by checking out the repo home page, looking at the wiki or trying the demo.
Pull requests are very welcome.
Requirements
As detailed on the repo home page, you'll need to put the open source TextInputCanvas plugin in Xojo's plugins folder and restart the Xojo IDE for the control to work.
Future plans
I have significantly refactored the control from CEF to allow future support of the control on mobile (iOS at first). This is something I am currently actively working on and has been made possible due to recently added support for the keyboard in the iOS canvas control in the latest version of Xojo.