14 Mar 2019
Pre-Release Testers

,

Xojo Pro
Europe (Belgium, France)
Hi,
I have an app with lots of iOS Switches and the customer wants to something else than the standard green when some switches are ON.
Changing the background (using declares) doesn't work, it's a rectangle (square corners) behind the switch which also replaces the white color inside the switch when it's OFF. When ON the green color
Changing TintColor doesn't work: affect the border color when switch is OFF and has no effect when switch ON.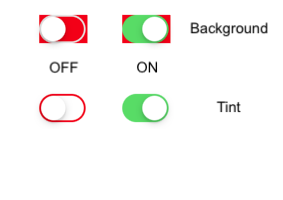 Has anyone a solution to change this green color ?
Cherry on the cake would be to be able to specify a color for OFF state and another for ON.
Thanks !