Whoever is administrating the Xojo Facebook Group, there is some work for you, as we speak
@Anthony_G_Cyphers @Dana_Brown ?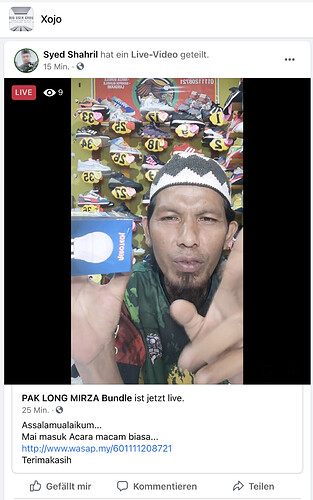 Post deleted. Not simple to moderate users from mobile, so I'll deal with that later. Thanks for the heads up.
Thank you for the swift action. Yep, Facebook …
- funny people on that platform.
yep, but someone must be the admin of the one with the "grey" logo, but Antony solved it. The guy selling bulbs in a live video is gone
- I have no idea what he was talking about …
Click the ellipse next to the post, and select "report to admin".
Yeah, I just setup some automatic actions for when posts are reported, as well, so definitely make use of that. I don't get on Facebook often these days, but if you need something just DM me here.
Just out of interest and to double-check. I did report that incident BEFORE contacting you here. Did you receive that notice? Funny enough I only noticed it because I had another incident on a page we are managing for one of our clients. That's the main reason I'm still on Facebook: customers believing it is great tool for promoting their business ;-),
As there are a few Xojo pages on Facebook but only one official it is a bit confusing anyways and moderating a facebook group / page is a complete nightmare and time eater, unless you keep it quite closed or you have a paying customer.
I've had Facebook notifications entirely disabled for at least six years, maybe longer. I occasionally check in to make sure there are no issues, and sometimes receive messages elsewhere about the group.
I admin a couple Facebook groups. Reports appear in my timeline. Not ideal, really.