May 2022 – xDev Magazine is pleased to announce the release of our newest issue, now available in PDF and print formats!
The May/June 2022 (20.3) issue features articles on XDC Anywhere, Xojo 2022 Release 1, currency entry, and making a PDF font book.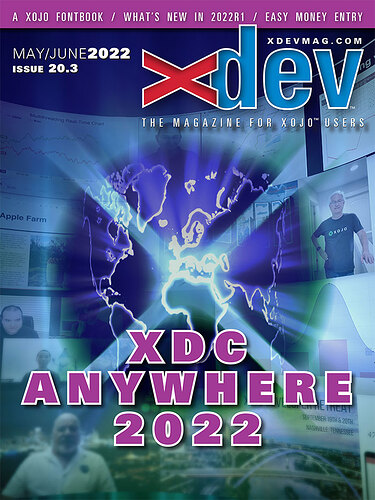 This latest issue of the magazine includes the following feature articles:
XDC Anywhere 2022 by Marc Zeedar
In April Xojo held their first virtual conference. What happened? Did you miss it? It's not too late as everything is up on YouTube for you to watch at your convenience.
Xojo 2022 Release 1 by Marc Zeedar
The latest Xojo update has some major new features. Marc gives an overview and shows how to create some cool new Code Assistant scripts.
Easy Money Entry by Tom Baumgartner
Tom wanted to write his own accounting app and learned that creating a proper currency field is harder than it seems.
Making a Fontbook by Marc Zeedar
When Xojo added support for using uninstalled fonts, Marc thought it would be a great way to make PDFs of his font collections. Unfortunately, the process was a lot more complicated. In the end, he had to learn how to parse font files to get the project to work.
Plus: Debugging basics, JSON, using Continuity Camera, subqueries, and more!
This new issue can be purchased and downloaded instantly via GumRoad (Issue 20.3 ("XDC Anywhere")).
Other Products
Annual subscriptions, in PDF or printed booklets, may be purchased directly from the xDev website (xDev Magazine Order Center). Offering print subscriptions is a brand new service. You can read more about it on the website (xDev Magazine in Print). Digital subscriptions cost $50; print subscriptions are $100 (USA) or $125 (international).
Also available on the xDev website are printed perfect-bound books of each of the magazine's first 16 years. Each book is 300-500 pages and contains over 70 articles and programming tutorials. All are available for order now (xDev Magazine Order Center).
About xDev Magazine
Formerly Real Studio Developer, xDev Magazine has been publishing since 2002. xDev is an independent bimonthly publication focused on instructing users of the Xojo development environment. Each issue features over 70 pages of quality articles from top Xojo programmers and authors. xDev is renown around the world as the premiere source of Xojo instruction, tutorials, and programming advice.
About xDevLibrary
Formerly RBLibrary, xDevLibrary.com is a site for à la carte purchases of books and articles about Xojo, REAL Studio, and REALbasic. Instead of waiting for a magazine issue to be published, readers can just purchase the articles they'd like immediately. The library covers a vast array of topics for Xojo beginners, experts, and everyone in between with prices starting at under $2.
About Xojo
Xojo, Inc. was founded with the idea that software development should be accessible to anyone. With traditional tools, creating software applications can be a very complicated process, but using Xojo anyone can learn to create high quality, native apps for the desktop, web, mobile, and Raspberry Pi. With users all over the world, Xojo apps can be found in every conceivable category – from commercial software applications to use in governments, universities, businesses, and the Fortune 500. For more information, visit www.xojo.com.