Pre-order xDev Archive 18, a perfect-bound book containing the full contents of Year 18 of xDev Magazine, for 25% off the normal price.
January 2021 – xDev Magazine is reprinting the past year's issues into a convenient perfect-bound book which will be shipping in early February 2021. Through January 22, the book may be pre-ordered for $44.99 – 25% off the normal price of $59.99. Current subscribers can save even more with an additional 25% subscriber-only discount!
The 568-page book contains the full contents of Year 18 of the magazine (issues 18.1-18.6, Jan. 2020-Dec. 2020), and features a full-color cover, black ink interior, and perfect-binding. Volume 18 includes articles on topics such as:
Backward Compatibility
ChartDirector
Checking Spelling with Word
Coding Tips
Color Groups
Comic Downloader 2
COVID-19 Simulator
Custom Listbox Drawing
Drag and Drop
Drawing PDFs
Enumerations
Git
Iterators
Links in PDFS
Mac to iOS
Machine Learning
Managing Yourself
Mapkit
MapKit
Numeric Textfield
OOP Listbox
PowerXS
SceneKit
Sets
Setting Goals
Simple Web App
Updating to 64-bit
Web 2.0
WWDC 2020
And much, much more!
Those interested should place orders today on the xDev website.
The pre-order discount is only offered through January 22, 2021.
Previous annual collections of xDev (Volumes 1 through 17) are also available from the xDev website starting at just $30.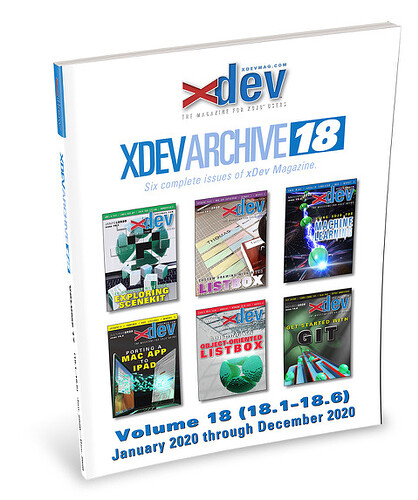 About xDev Magazine
Formerly Real Studio Developer, xDev Magazine has been publishing since 2002. xDev is an independent bimonthly publication focused on instructing users of the Xojo development environment. Each issue features over 70 pages of quality articles from top Xojo programmers and authors. xDev is renown around the world as the premiere source of Xojo instruction, tutorials, and programming advice.
About xDevLibrary
Formerly RBLibrary, xDevLibrary.com is a site for à la carte purchases of books and articles about Xojo, REAL Studio, and REALbasic. Instead of waiting for a magazine issue to be published, readers can just purchase the articles they'd like immediately. The library covers a vast array of topics for Xojo beginners, experts, and everyone in between with prices starting at under $2.
About Xojo
Xojo, Inc. was founded with the idea that software development should be accessible to anyone. With traditional tools, creating software applications can be a very complicated process, but using Xojo anyone can learn to create high quality, native apps for the desktop, web, mobile and Raspberry Pi. With users all over the world, Xojo apps can be found in every conceivable category – from commercial software applications to use in governments, universities, businesses, and the Fortune 500. For more information, visit www.xojo.com.