Version 3.0 (Dec 2018) of the Windows API Declare Book has been released and it contains many added examples and updates.
The goals of this major update are:
Minimize the use of Aliases
Make all examples compatible with ANSI, Unicode, 32-bit, adn 64-bit computers. There were a few requests to support some old Windows XP machines.
Many functions were added to support the ANSI and new examples included in the book
Added the functions and methods to a module for easier portability across Windows Operating System platforms
Added many more constants
Added lots of structures
Finished adding more native Windows controls
Added many Target Windows conditional statements to prevent Windows specific code to run on other Operating Systems
All examples work in Xojo 2018 R3
Removed ByVal prefixes as this is the default setting
Cleaned up code to be easier understood
Added 30 new examples
Over 66 updates
Standardized the writing of declare methods
More API declares were added
All of the previous screen grabs showing ChooseColor, playing a video, and playing an audio file are also ANSI, Unicode, 32-bit, and 64-bit are supported.
The API Windows calendar control was added: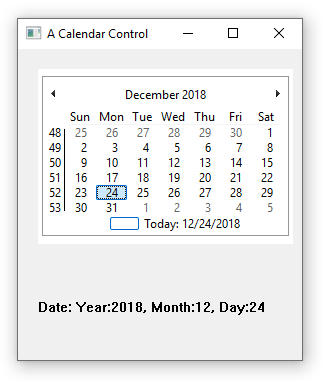 Controlling the native Windows API keyboard was added:

…and many other controls were added.
This is a new book that is over 900 pages with more than 140 example programs in 25 chapters. The low price of $14.99 has been set to make this book available for programmers to learn advanced API programming.
This is a PDF formatted document and all examples include Xojo code. The Table of Contents can be viewed at Http://scispec.ca
ISBN: 978-1-927924-10-5