Hello,
I created a web app in 2021 R1 making extensive use of WebListBoxStyleRenderer/s. The WebListBoxStyleRenderer/s function well.
A few days ago, I opened, then ran the project in 2021 R2 and the WebListBox now displays a JSON string in the cells where the WebListBoxStyleRenderer/s were used instead of the value usually displayed. See below.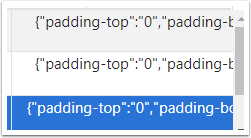 Thought it may have been fixed in 2021 R3, but issue still persists.
Is anyone else experiencing this? Still works fine in 2021 R1.
Kind regards, Andrew