I following the documentation to upload my iOS App to the world. It works fine on simulator, it works fine in my device. Next Step is TestFlight.
The doc seems not to be up to date: Submitting to TestFlight — Xojo documentation
"In Shared Build Settings, ensure (…) that "Short Version" has a value": I supposed it was replaced in Xojo by "Non release Version" ?
AppLoader was replaced by Transporter (at least 3 years ago)
I used Transporter to check and upload my spa made from Xojo Build → Everything is ok
I'm waiting a few minutes and receive a mail from Apple : "The following build has completed processing:"
On AppStore connect I can send my build to TestFlight users (me)
I receive a notification and can download my App on my device
Unfortunately when I launch it I got an error
In Xcode I receive a Crash Report with my Device Name and last Build ID. Here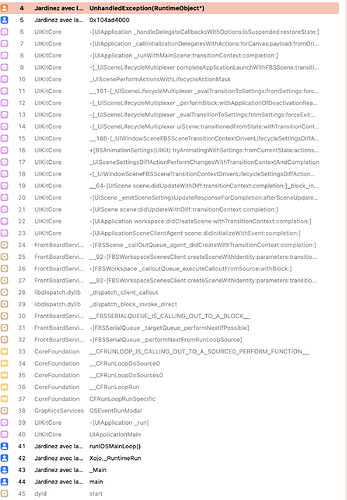 Note: My App is basic and use only one plugin : MBS Google Ads from @Christian_Schmitz
Any idea of what's going wrong ?