For those who know these guys: keep an eye on your chimney tonight.
my opinion
not appropriate for [GENERAL] topic area
really not appropriate at all, especially in these politically turbulent times
I agree it should be moved to Off-Topic.
At least my kids look forward to get some little presents today.
Who is the coloured guy ?
The colored guy is "Zwarte Piet". He has a lot of colleagues and they are all quite busy today, because there is a lot to be done before disappearing to Spain tomorrow.
His boss, the guy with the beard is called "Sinterklaas". He has quite some friends in the age of 0-12.
Here in the states I could see a movie being made with Chris Rock as the head "Zwarte Piet", and Seth Rogen as "Sinterklaas".
it has, but it was that was a "creepy" movie, like "krampus". since the subject lent itself to highlight the "sensitivities" of our diverse cultures in the states, i figured why not a funny movie where the main characters are more than known for throwing those "sensitivities" front and center
I once played zwarte Piet (from Spain, like myself) while I was living in Belgium. We (my friend was playing Sinter Klaas, a dutch guy) visited a school and talked to the kids there. It was fun.
I know there is controversy around this custom nowadays, I hope you figure it out and find the way that will please most people. In the meantime, enjoy.
And here I thought "Gee a conversation about Signed Int's"
Huh
This Piet is a Dutch tradition.
And now, all brave kids are dreaming and these guys are on their way to Spain. The end.
Dutch settlers in the US took the stories of Sinterklaas (St. Nicholas) with them and that's where the name Santa Claus comes from.
The story changed over time though. The black helpers (Pieten) became elves, the magic horse became a sleigh, the shoes became socks etc.
[quote=301689:@Norman Palardy]And here I thought "Gee a conversation about Signed Int's"
Huh[/quote]
I did too.
Expecting him this evening: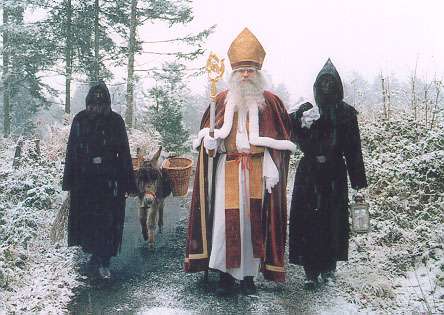 In my town the operation is run by the various churches who charge a small fee for visiting the kids, with the money going to the local homeless shelter.
Those black robe characters look a little more menacing than the jester in the cartoon in the original posting…