This happened from one day to another:
I wrote an console app, using sqlite database only, no interface except logging. Running fine. Running multiple in parallel. Great stuff, very satisfying. Now BOOM - it is not running any more, even not one of the dozen versions before. This shows up: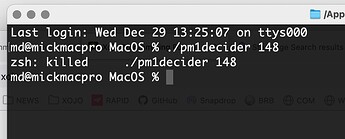 After some googling I decided to look into the console log, very helpful:
---

Translated Report (Full Report Below)

Incident Identifier: 3D55801B-3149-460B-B9BB-C9EA9BD26278
CrashReporter Key: A12B298A-6177-7022-133C-569B226E1F00
Hardware Model: MacBookAir10,1
Process: pm1decider [47846]
Path: /Applications/PhaenoMind.app/Contents/MacOS/pm1decider
Identifier: pm1decider
Version: ???
Code Type: ARM-64 (Native)
Role: Default
Parent Process: launchd [1]
Coalition: [11410]

Date/Time: 2022-01-18 07:12:26.2218 +0100
Launch Time: 2022-01-18 07:12:26.2149 +0100
OS Version: macOS 12.1 (21C52)
Release Type: User
Report Version: 104

Exception Type: EXC_BAD_ACCESS (SIGKILL (Code Signature Invalid))
Exception Subtype: UNKNOWN_0x32 at 0x0000000100c54000
Exception Codes: 0x0000000000000032, 0x0000000100c54000
VM Region Info: 0x100c54000 is in 0x100c54000-0x100da4000; bytes after start: 0 bytes before end: 1376255
REGION TYPE START - END [ VSIZE] PRT/MAX SHRMOD REGION DETAIL
UNUSED SPACE AT START
—> mapped file 100c54000-100da4000 [ 1344K] r-x/r-x SM=COW …t_id=90a3c3ad
mapped file 100da4000-100dac000 [ 32K] rw-/rw- SM=COW …t_id=90a3c3ad
Exception Note: EXC_CORPSE_NOTIFY
Termination Reason: CODESIGNING 2
Whatever "EXC_BAD_ACCESS" means, after a few hours of reseach I did not get the feeling that I will be able to figure that out. I can see that there appeared a new directory named _CodeSignature - that was not there before and it is not there in other apps. But I do not know how to switch that on or off.
Probably it is an Apple individual certification problem?
System is Mac OS Monterey 12.1 with a Xojo 2021 R3.1.
Btw: Same code still runs on my Intel Mac and in Windows without any problem. So do I have to swap to the "old fashioned" Intel Mac to continue with my development? No M1?
Any Idea?