Hey guys,
I found a pesky bug regarding the newest Mac. It's quite simple: the ANYGUICOMPONENT.Refresh() method is not working as expected. Normally, It should make sure updating the GUI in an instant, so that you can show important info during a long taking process to the user.
Instead, the long taking process (e.g. we can simulate it with a sleep) needs to be finished and then afterwards we get a GUI refresh. This is not acceptable, in Windows it works as expected.
I attached several resource to state my point:
This is the code in the "standard dice" canvas testing project which tries to call the refresh method.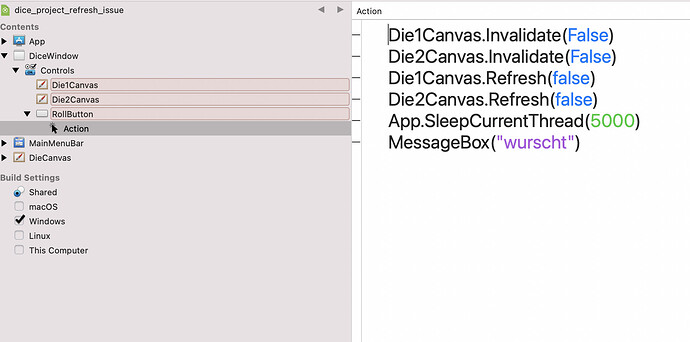 Unfortunately, the GUI changes in Mac only after the MessageBox has been triggered, not after the calls to the refresh method (which is the expected behaviour, working on windows)
This is a link to my code:
https://lodgit.com/download/bugs/dice_project_refresh_issue.xojo_binary_project.zip
Hopefully this is enough to provide the point.
Feedback Case Number: