Years and years ago, I got into RealBasic, but created only one application: a scoring program for our duplicate bridge group. Amazingly, that program still works, even though it was originally compiled under a very early version of OSX.
Unfortunately, my recent jump to Yosemite (due to getting a new Mac for Christmas) has lost an important bit of the user interface. Specifically, the arrows at either end of the slider are gone. (See illustration below; Snow Leopard on the left, Yosemite on the right.) Although the application still functions correctly, it's quite tricky to get that slider to one of 20 distinct positions, since there are no one-at-a-time arrows to click.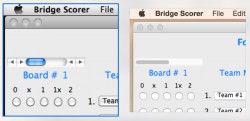 My bridge club members are asking for their arrows back. However, it looks as if I have to spend a hundred dollars or more to get a Xojo license just to recompile this with the appropriate Yosemite flags set so I can regain this functionality. (If "setting flags" is indeed what's required.)
We've used this program every month for many years, so I can convince myself that I actually don't mind (too much) spending that money, but I would be very sad if this problem is un-fixable by a simple recompile. Can someone tell me if that's all it would take?