Some Windows users get a NilObjectException when trying to download an update file. Of course, it works fine for me on all my test machines
The update info has been successfully downloaded and presented in a modal window.
As soon as the user clicks the Download button, the error immediately appears.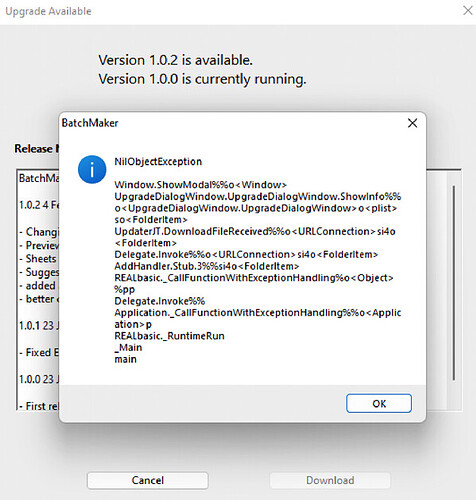 The Download button disables itself (you can see that that's happened) and calls GetFile, where you see I've already added a bunch of nil checks:
If f <> nil then
  If LblDownloading <> nil then
    LblDownloading.Visible = True
    If ProgressBar1 <> nil then
      ProgressBar1.Visible = True
      // Async Send, all results handled by events
      UpdateSocket.Send("GET",DownloadURL, f,15)  // (last parm is timeout in secs)
      Return
    Else
      MsgBox "ProgressBar is Nil!"
    End
  Else
    MsgBox "Label is Nil!"
  End
Else
  MessageBox "File "+f.NativePath+" is nil!"
End

Self.Close

UpdateSocket is a URLConnection added to the window in the IDE. It has event handlers for Error, FileReceived, and ReceivingProgressed.
f is SpecialFolder.UserHome.Child("Downloads") - could this be a permissions issue? I do check for f being Nil, but maybe URLConnection throws an NoE if it can't write?