I bought both of them. Can I renew them with this?
If you haven't already discovered it, we have an Omegabundle for Xojo 2022 FAQ page on the Omegabundle website. You'll find the top questions asked there, year to year, such as how long it takes to get all licenses or how to tell all of those Valentina licenses apart.
We've also created a specific thread for Omegabundle for Xojo 2022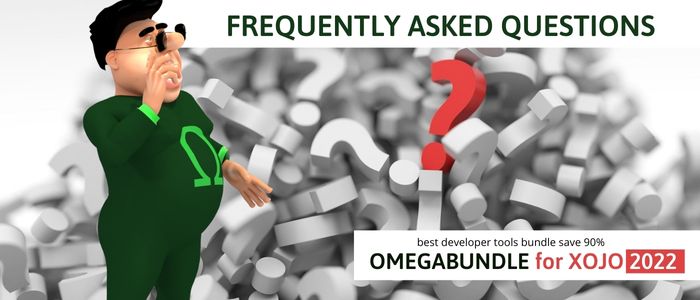 The first batch of OmegaBundle orders is in delivery.
We process orders in batches every few days. And when you order your copy of the bundle, be prepared to have nothing happening for a day after the order. Then the delivery starts and you may quickly get something like 20 emails with license information and welcome messages.
If you don't get emails for a few days, please check:
Did your bank let the order go through on the credit card?
Did you check your spam filter? Put vendors on white list maybe?
Did you make a typo in the email address?
Every year emails end up in spam folders or bounce with typos.
If one of the vendors knows you, we can fix typos or have an alternative email address and deliver. If you have trouble with the web shop, please contact Paradigma Software, Inc. They also can provide the invoice for bookkeeping.
A week after the order, check if you got all the licenses from the bundle you needed. Some requires to login somewhere to lookup the license key. But for MBS, you just get a couple of emails.
Learn what is new in MBS Plugins:
And you get current version with OmegaBundle included!
Paradigma Software and MBS have opened the door to better projects built around MongoDB. MBS Release 22.3 includes over over 50 new MongoDB database functions. The release of Valentina Studio Pro 12 from Paradigma Software also includes excellent support for working with MongoDB's unique feature set.
If you've been looking to build projects around MongoDB, you'll get both of these as a part of Omegabundle for Xojo 2022!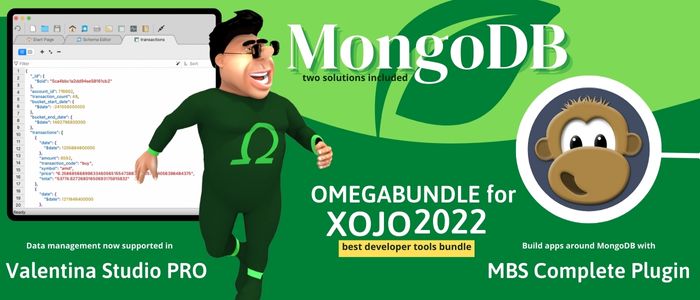 Stretch and resize your application window and all your controls maintain the best position with RubberViews ™. RubberViews hasn't been a part of Omegabundle for a few years but its back and 100% compatible with Xojo API 2.0! Check it out on the Omegabundle for Xojo 2022 website. It normally costs $149.95, but you get it and much, much more with the bundle in an overall savings of 90%.
The Xojo Algorithms Collection ebook contains all of the algorithms columns in xDev Magazine from 2002-2009. Algorithms are timeless technology that apply to any coding language and any version of Xojo. There are over 30 columns and the entire book is 180 pages.
GraffitiMapViewer
GraffitiMapViewer embeds the power of Google Maps in your cross-platform desktop applications. Draw polygons, add markers, display directions, include image overlays and more!
Also coming for all people ordering OmegaBundle is our new XML Plugin:
Is the XML plugin going to be included for existing users with current maintenance on MBS Complete / etc, or will it be a separate purchase?
Included in complete set.
GraffitiAvatarGroup
GraffitiAvatarGroup allows you to display many avatars for users to interact with. Typically used in scenarios to show what users are participating in an activity or are currently available.
Add as many avatars as you need and this class will collapse to hide those items which cannot be displayed and will draw a "More" button showing the current count of hidden items.
Uses the popular GraffitiNote for display items and GraffitiAnimator for transitions, so instantiation is easy and flexible.
Documentation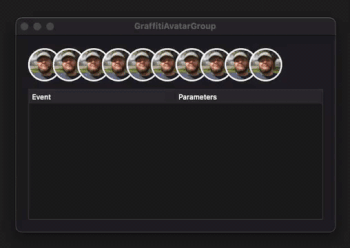 AprendeXojo announces GuancheMOS 1.9.5: Serial Number Generation and Validation Engine for Xojo Developers. GuancheMOS 1.9.5 is included in Omegabundle for Xojo 2022!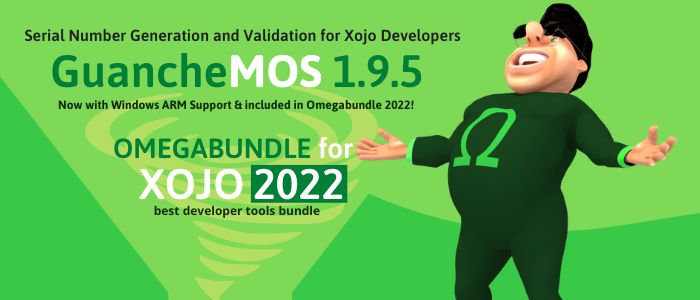 Obtén las mejores herramientas y componentes de desarrollo de terceros para el entorno de desarrollo multiplataforma Xojo ¡con un descuento de escándalo!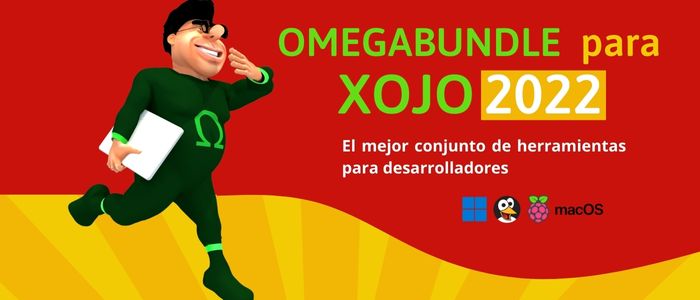 Note that RubberViews supports API 2.00 controls, but it also comes with the previous version 1 enclosed, for users who did not upgrade yet.
GraffitiTooltip [Coming Soon]
GraffitiTooltip is a powerful, cross-platform, rich tooltip implementation that allows you to design the help system of your dreams! Whether you need single-line text, multiline text or containers, it can be hosted in a GraffitiTooltip.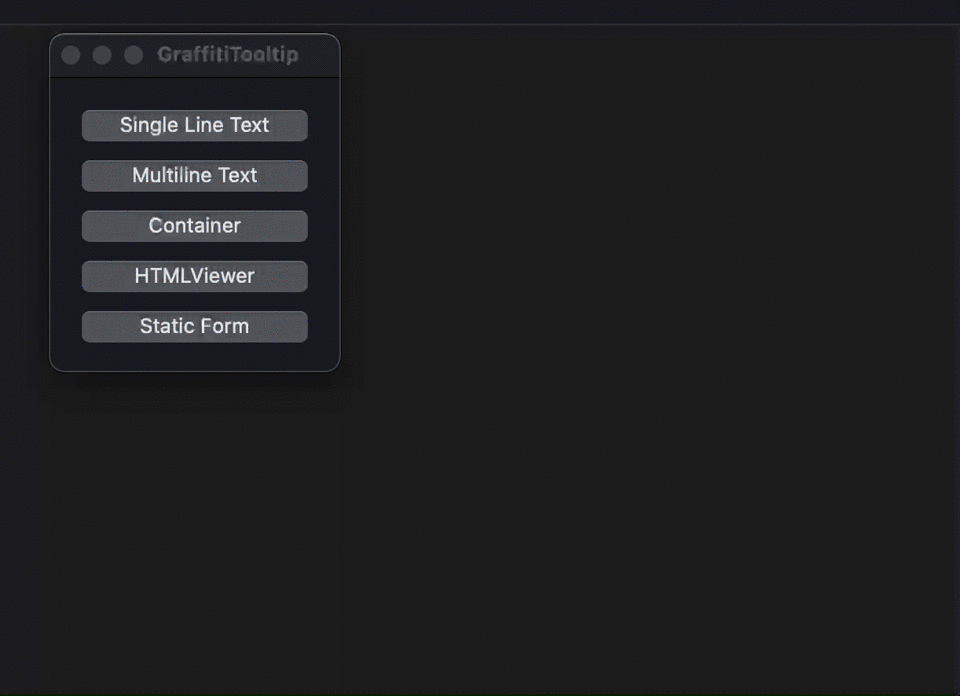 Sir
I am looking into the Omega Bundle. I understand the GraffittiSuite is based on a subscription model. Is this model like Xojo's, in that you are entitled to a year's worth of updates and then it continues to function after the year with no more updates till you renew? Or does the product stop working after a year?
Thank you
fritz
This is correct, I am a customer.
GraffitiWindowNotifier gives you the power to display notifications inside your application's individual windows with smooth animations, easy interaction, and timed display. Uses the popular GraffitiNote for display items, so instantiation is easy and notifications are flexible.
GraffitiWindowNotifier is a part of GraffitiSuite Desktop(regularly $399.95), which includes a massive collection of 61 (increased from 55 in 2021) Xojo desktop controls, classes and modules that cover the range of almost every visual object you will want in your app.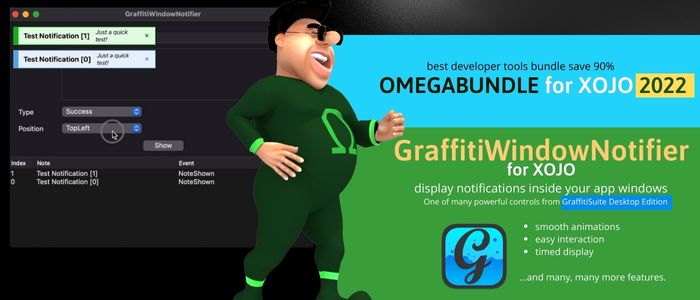 GraffitiSuite Desktop is a part of Omegabundle for Xojo 2022 ($399.99), the limited time summer of 2022 bundle from the best Xojo add-on tool vendors. Get Omegabundle for Xojo 2022 for a limited time, right through the Paradigma Software store.
Don't forget that August 13, 2022 is International Left Handers Day!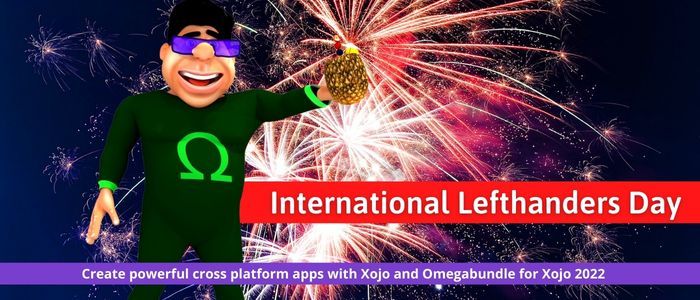 The Xojo OOP Collection ebook contains all of the OOP Columns in xDev Magazine from 2002-2009. Object-oriented programming is a timeless technology that apply to any coding language and any version of Xojo. There are nearly 40 columns and the entire book is 131 pages Some of the OOP topics include inheritance, wrapper classes, polymorphism, design patterns, delegates, handling exceptions, transaction rollbacks, threads, debuggable code, and much more.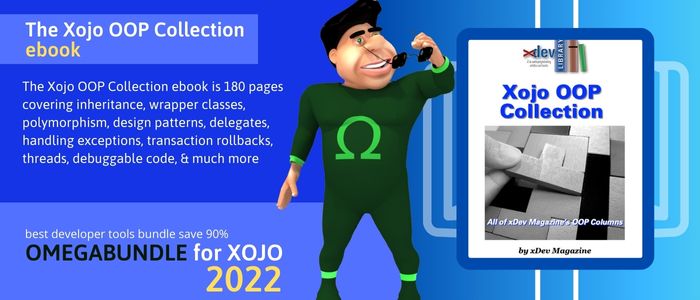 The Xojo OOP Collection ebook is a part of [Omegabundle for Xojo 2022](http://Omegabundle for Xojo 2022) ($399.99), the summer bundle from top vendors of add-on and extension tools and products for Xojo! Check out the Table of Contents…
We'd also like to congratulate Ukraine on Ukraine Independence Day 2022, August 24, 2022!