Hi,
With Xojo 2019r3.1 all iOSTextField render with a white text on white background … not usable.
This problem appears for both the initial text and when typing.
AFAIK it concerns the Simulator only, running on physical device seems correct.
iOSTextArea seems ok.
Easy to reproduce:
From Xojo IDE, new project, select Examples/iOS/Apps/XojoNotes
Just changed the DetailView / Title label to reflect the Xojo version
With 2019r2.1: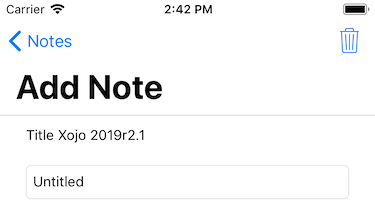 With 2019r3.1: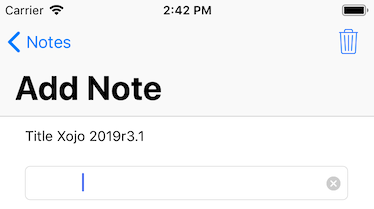 Config tested:
iMacPro - macOS 10.15.14 (Catalina)
Xcode/Simulator 11.4.1
and
MacBook Pro - macOS 10.14.6 (Mojave)
Xcode/Simulator 11.2
With the Apple requirements to use Xojo 2019r3.1 as from June, it's more than annoying.
It's hard to test apps on physical devices only.
I hope some people can reproduce and confirm this ??
Tanks !