I'm still having lots of trouble with the IDE on windows. Selecting code bigger than the code window keeps jumping around sometimes and today I had (for the x'th time this week) a problem with the project explorer. (has been reported but dismissed as not reproducable).
It seems like the project explorer can't handle function overloading very well. Here is what I noticed: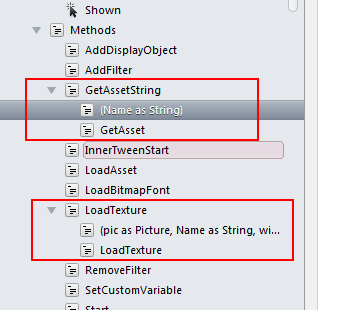 In the first case: Two different function names are grouped together
In the second case: only the function name is is shown instead of (picStr as String, Name as String, …)
The realy annoying thing is if you don't see it and press save, you get the dreadful 'GSOD: Gray Screen Of Death'. (I like to call it that because its equally bad):



Again, lots of time lost thinking what was changed since the last save and sorry to say, completely unacceptable for any respectable IDE.
Also, trying to delete a group with overloaded functions reproduces the GSOD a lot. Most of the time I now delete every individual function, but I don't think I should work this way and be able to delete the group in one time.
I know stuff has to be done on 64bit and iOS, but please fixing the IDE on Windows should be top priority as this is the place we work in every day. Sorry if I sound pissed off but this is the very last thing any programmer want to have: not being able to rely on your program environment.
Xojo 2014R2.1 Windows 7 64 bit