Gate61 is proud to announce gTooltip, a new Xojo Web add-on to create flexible, styled and customized Tooltips (HelpTags).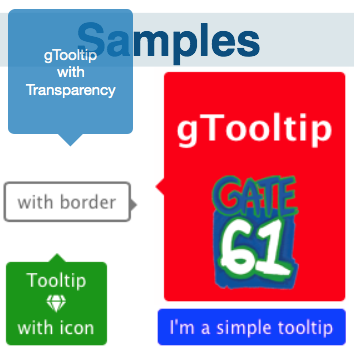 Features
• Tooltip text can also contain html tags (strong, img, …) and icons
• Different sizes, multi-lines allowed
• Dynamic (you can change settings at runtime, by code)
• Text and background colors, transparency allowed !
• Triggered by hover, click or manually
• Multiple positioning options
• With or without arrows
• Delayed and animated display/hide
• Set the Tooltip to follow the mouse cursor
• Optional "flip" (position change) when not enough room available
• … and many more …
System requirements
Xojo Web release 2016r2.1 and following.
Web Applications only (no Desktop, Raspberry or iOS application).
Look at the details and try the online demo here: gTooltip
Other Gate61 Xojo add-ons here: Xojo Add-ons here: Xojo Add-ons