I have a nice set of objects which draw themselves into supplied graphic object.
LInes, boxes, text… All good.
I also have some filled lines with borders, and I was only able to achieve that using object 2d items.
There can be two or there things , rotated by perhaps 45 degrees. The lines sometimes have numbers beside them.
A bit like this image: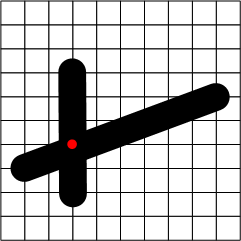 I have an MBS Dynapdf licence.
I can't work out how to get an object2d item to use a DynaPdfGraphics object at all, and what I need is for the end result to be a properly scalable thing.
Anyone used object2 items in this way?