Help!
I have developed a label solution for a timber company I am working with - it basically takes an input batch number, queries a web service (written by me) that communicates with their ERP system and returns a JSON string containing the data required to then create a PDFDocument and then allow them to print as required. All great so far apart from one really strange issue I just can't resolve.
There may, on occasion, be multiple labels required to be printed for a particular batch. This is determined by examining the JSON. In the event of multiple labels then I need to output a single, multipage PDF. Again this is working well other than this one issue which involves a particular drawtext command on the graphics context. The product description can be upto 200 characters long and so I inform the drawtext command to wrap onto the next line after x characters.
On the first label this works perfectly as can be seen here:
However on the next label, after a .nextpage directive, this happens: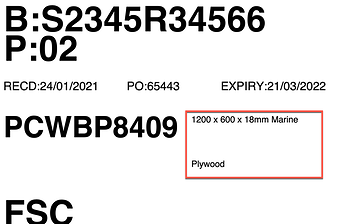 No matter what I try the drawtext will not wrap the text correctly. Each time the exact same command is running.
Obviously I can handle this by breaking up into multiple strings and printing each manually but just wondered if anyone had any ideas why this is behaving like this?