Dear Community members,
I am tying to develop an application in Linux wherein I am facing a difficulty while dealing with combo box.
In development mode everything looks fine.


However, when I am running this application in debug mode then I see following issues,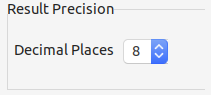 Frame edge disappears & I believe this may be because of combo box issue which is described in point 2.
If I click on this combobox then the text field of combo box expands destroying complete layout.

I am looking for any guidance that you can offer me in this situation.
Additional information -
I am using Linux Ubuntu 20.04 OS with NVIDIA GTX 960M graphic card on my Laptop.